Why Incentivefox?
The Incentivefox Platform is Your All-in-One Referral and Retention Solution.
Referral Program
Automate, upgrade and optimize your out of date referral program.
Test Drive Pop Up
Convert your anonymous website visitors into showroom visits.
BeBack Program
Incentivize fresh ups to give your dealership another change or some insiight before and after they leave your lot.
Employee Incentives
Create a reward program that engages employees and motivates performance that drive better business.
Direct Rewards*
Send a customized Dealership Visa® Card to anybody for any reason – great for goodwill, birddogs, and special occasions.
Promotional Offers*
Re-Engage with your customers through contests, goodwill, and any other promotional offers.
Analytics & Reporting
With analytics and reporting dashboards you can track key program statistics to measure performance and return on investment
Mobile Application**
The Communication channel your dealership needs, and the convenience your customer deserves.
On-Demand Ordering
Order cards bulk to have on hand at your dealership in just 3 clicks.
Our top clients are selling an extra 10-70 vehicles a month, you can too.
How it Works
The incentivefox team helps you create solutions that engage your current and potential customer base. The Incentivefox platform allows you to create, automate, track, and optimize on your digital and in-store incentive offers all through one easy to use platform.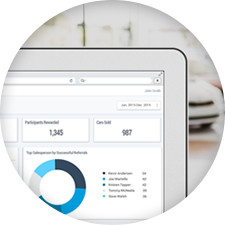 Track
Manage all of your reward programs, offers, participants, analytics and optimize your programs to drive more traffic, increase customer interaction and boost brand awareness.
Some of the brands we work with:
Interested in learning how many referred vehicles sales you're missing out on?