In the late 90's it was websites,
now it's mobile apps**.
The Communication channel your dealership needs, and the convenience your customer deserves.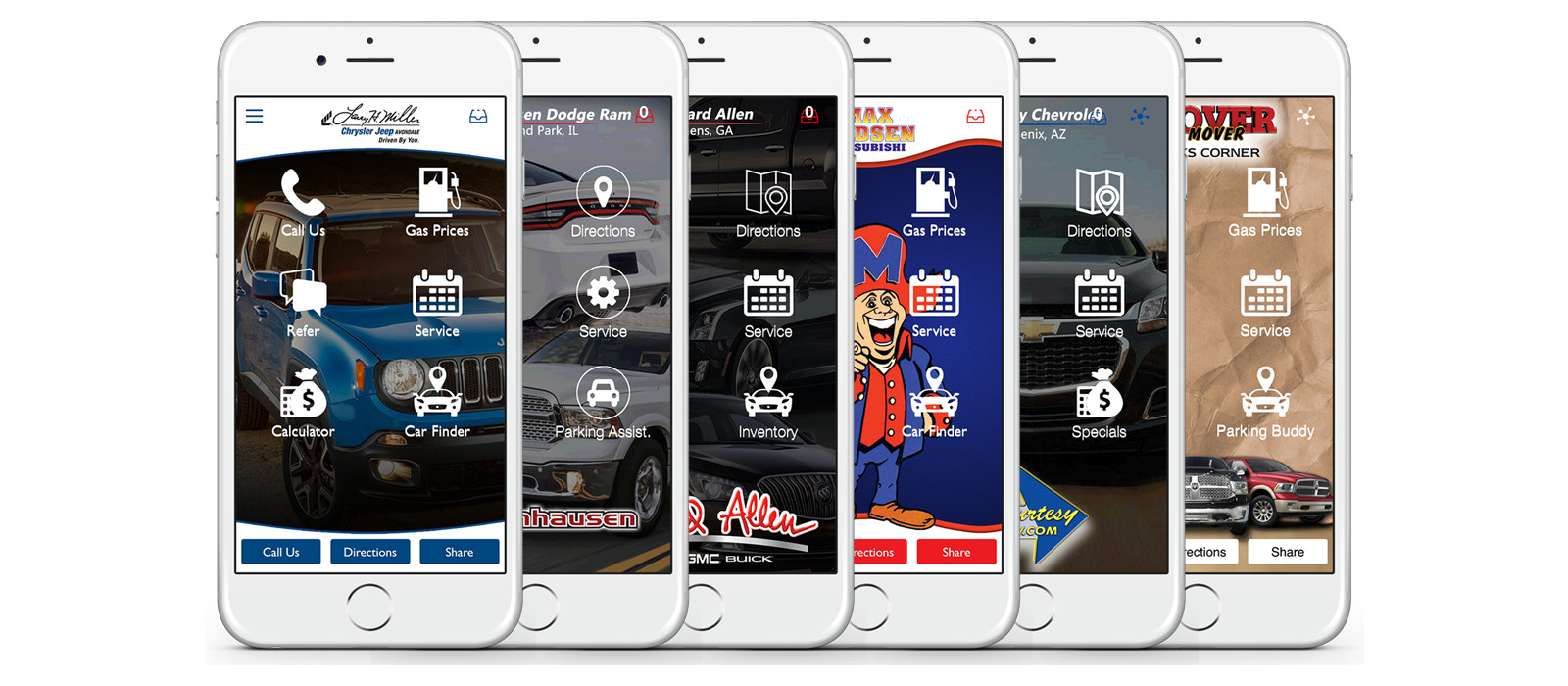 Amazing Features
We don't believe in cookie cutter solutions, each of are apps include features tailored to the dealerships needs.
Schedule Service
With a click of a button, your customers can schedule service from inside your app.
Specials & Coupons
Create app only coupons to intice your customers and create value after the sale.
One Touch Communications
Give your customers one touch calling from inside your app. No numbers to save or remember.
Live Inventory Listings
View live inventory listings easily from the inside your app so your customers always have it available.
Local Gas Prices
Allow customer to search for cheap gas prices in your area, right from your app.
Referral Form*
Your customers can submit referrals right from their smartphone when you utilize our smartphone application and incentivefox platform.
Trade-In Evaluator
Allow customers to take photos of their current vehicle and email it directly to your dealer all within your app.
Tell-A-Friend Feature*
Let your customers take your dealerships deals viral with built in sharing capabilities over email, Facebook, SMS, and Twitter.
Loan Calculator
Allow your customers to check their loan amounts.
QR Code Scanner
With a click of a button, your customers can scan vehicle information right within your showroom floor.
Rewards*
All of your incentivefox incentives are integrated into your app.
Push Notifications
Utilize our location based push notifications to reward your nearby customers or to entice all your customers to come in for a service special or offer.
Dealer Information
All of your dealerships information is a click away. Email, phone numbers, GPS directions, hours, Website & More.
Youtube Integration
Easily display hundreds of videos from your YouTube channel beautifully inside of your mobile apps.
Facebook Integration
Integrate your Facebook page to connect with your customers through their favorite social media sites.
Twitter Integration
Integrate a live-feed of your social media activity to your app, so your customer's never miss a beat.
GPS Directions
Give your customers turn-by-turn GPS directions to your business from anywhere in the world.
Roadside Assistance
Add to their safety. Your customers are only one click away from roadside assistance.
Visa® Card Balance
Allow customers to check their visa card balance right within your mobile app.
Parking Buddy
Never lose your car in a busy parking lot again, drop the pin and your smartphone app will guide you right back to your parking spot.
Maximize Customer Value
Every feature we put into our apps have your customer in mind, with features like parking buddy, local gas prices, roadside assistance & more, we aim to make their life a little easier & yours.